Gluten-Free Almond Swirl Coffee Cake With Chocolate
Published on Aug 21, 2018
by
Kristina Stosek
Prep Time:

15 minutes
Cook Time:

25 minutes
Serves:

20 squares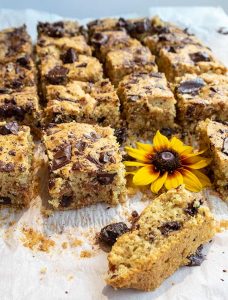 ​This post may contain affiliate links, please see our
privacy policy
for details
This Almond Swirl Coffee Cake With Chocolate is super moist, chocolaty and flavoured with maple flavoured almond butter. And the coffee cake is gluten-free.
The gluten-free coffee cake recipe has only eight ingredients and is easy to make. This is why this gluten-free cake is in our blog's top three chocolate snack cake recipes.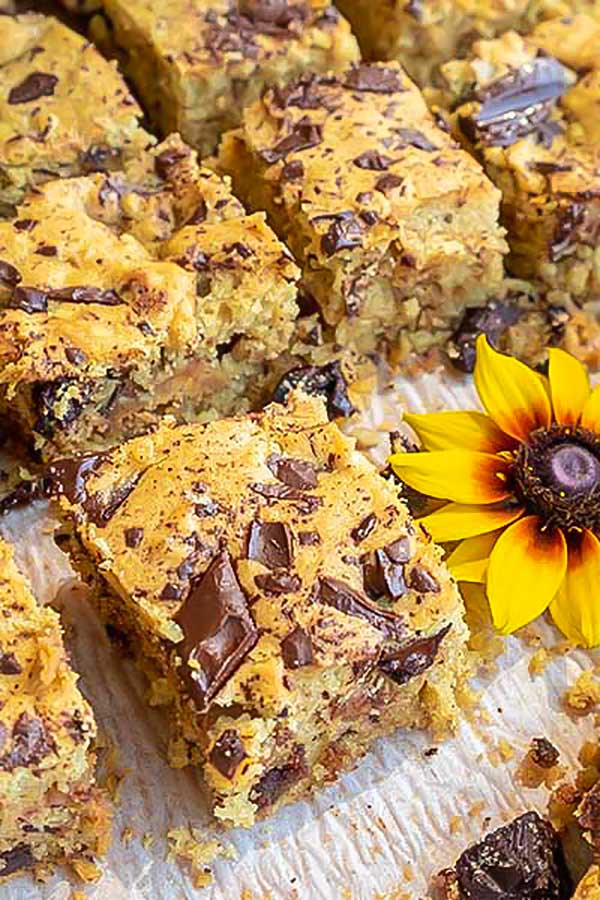 8 ingredient gluten-free almond swirl coffee cake with chocolate
When you combine chocolate, almond butter and oats, you know the coffee cake will taste good. I used only one gluten-free flour in this cake to keep it a simple cake recipe.
The remaining ingredients are maple syrup, butter and eggs, and the cake is ready for the oven. Nothing to it!
But don't let the simple ingredients fool you. I can't tell you how delicious this almond swirl coffee cake with chocolate is.
The texture is light without being crumbly, and the coffee cake is studded with delicious dark chocolate chunks and a maple almond butter swirl.
I added butter and almond butter to keep this gluten-free coffee cake extra moist. This is why this gluten-free chocolate snack is packed with protein.
A healthy-ish gluten-free coffee cake!
I know coffee cakes are considered not too healthy. However, this almond swirl coffee cake with chocolate is healthy-ish.
I cut out refined sugar by using maple syrup to sweeten the coffee cake. Almond butter replaced some of the butter and added protein and fiber to the cake.
The certified gluten-free oats have a good amount of B vitamins, iron, magnesium and selenium. In addition, oats have protein and fiber.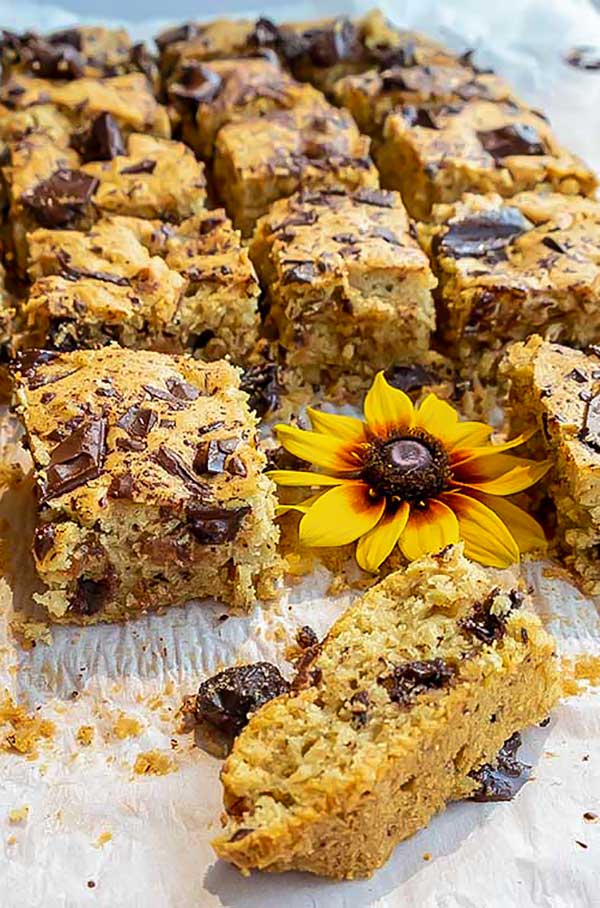 The recipe details…
You will love this coffee cake recipe because it is super easy to make.
To start, beat butter, eggs and maple syrup until creamy. Then mix in the dry ingredients with half the chocolate.
Next, layer the cake pan with half the batter and swirl in the almond butter with a splash of maple syrup.
Add another layer of the batter and finish with a sprinkle of the remaining chocolate. Done and DONE!
This insanely delicious gluten-free almond swirl coffee cake with chocolate is just the thing to serve for brunch or a late afternoon snack. The dark chocolate mixed with almond butter is so good!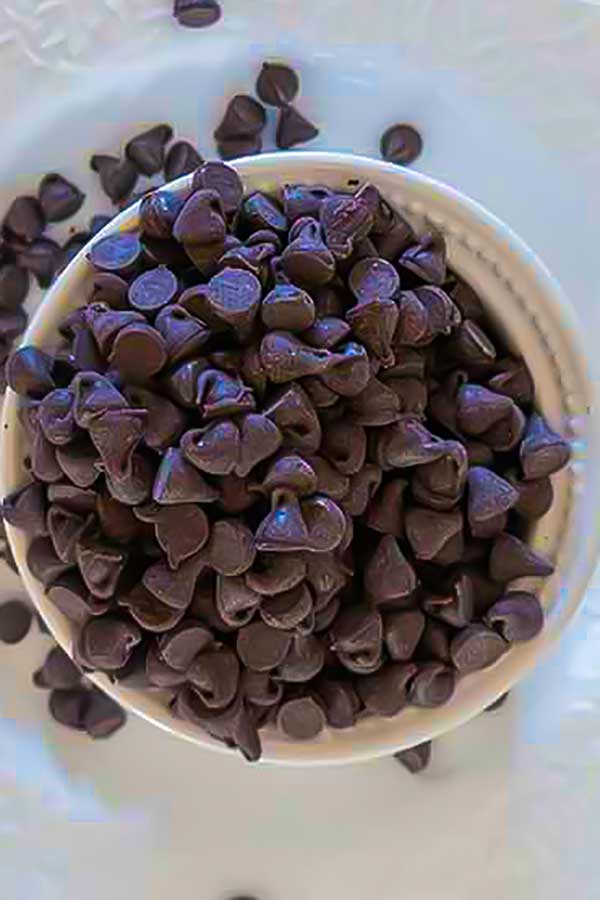 I promise you this gluten-free coffee cake will satisfy your craving for something sweet, chocolaty and delicious.
The best part, this is not your typical coffee cake. Instead, this gluten-free snack will give you lasting energy and some health benefits.
So now you can have a sweet treat without feeling too guilty. If you are a lover of chocolate snacks, check out these gluten-free chocolate recipes. Enjoy!
Gluten-Free Almond Swirl Coffee Cake With Chocolate
Published on Aug 21, 2018
by
Kristina Stosek
Instructions
1.

Preheat oven to 350 F and line a 9x13-inch baking pan with parchment paper

2.

In a large bowl, beat together butter and 3/4 cup maple syrup. Add eggs one at a time until creamy

3.

In a separate bowl mix flour, oats and baking soda, Add to wet mixture and mix to combine. Stir in half the chocolate chips/chocolate chunks

4.

Spread half the batter in the baking pan. Mix together almond butter and remaining 1/4 cup of maple syrup and swirl into to the dough.

5.

Add remaining batter over the top and sprinkle with remaining chocolate chunks

6.

Bake for 25 - 27 minutes, until just golden. Cool and cut into squares
Leave a Comment
I love the idea of the maple almond swirl, it added a nice texture and flavour. The cake turned out melt in your mouth moist, thank you.
easy recipe and delicious!

Kristina
always good to hear, thank you :-)
this cake came out so delicious and super easy to make, thank you!