Best Gluten-Free Ham & Cheese Biscuits
Published on Oct 20, 2018
by
Kristina Stosek
Prep Time:

15 minutes
Cook Time:

18 minutes
Serves:

12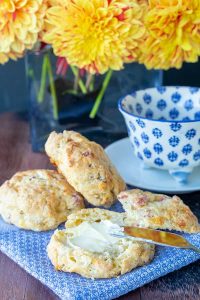 ​This post may contain affiliate links, please see our
privacy policy
for details
Hello and welcome to a sunny weekend! This weekend in my kitchen, it's about freshly baked Best Gluten-Free Ham and Cheese Biscuits. Well, it is sunny here on the west coast, so why not bake something simple and delicious for brunch.
This morning, I would have a coffee and watch the news, but my family wanted something warm, savoury, cheesy, and with ham. So here goes, I created the best gluten-free ham and cheese biscuit recipe!
30-minute gluten-free ham and cheese biscuits
Since I did not want to spend too much time in the kitchen, I made the recipe very simple!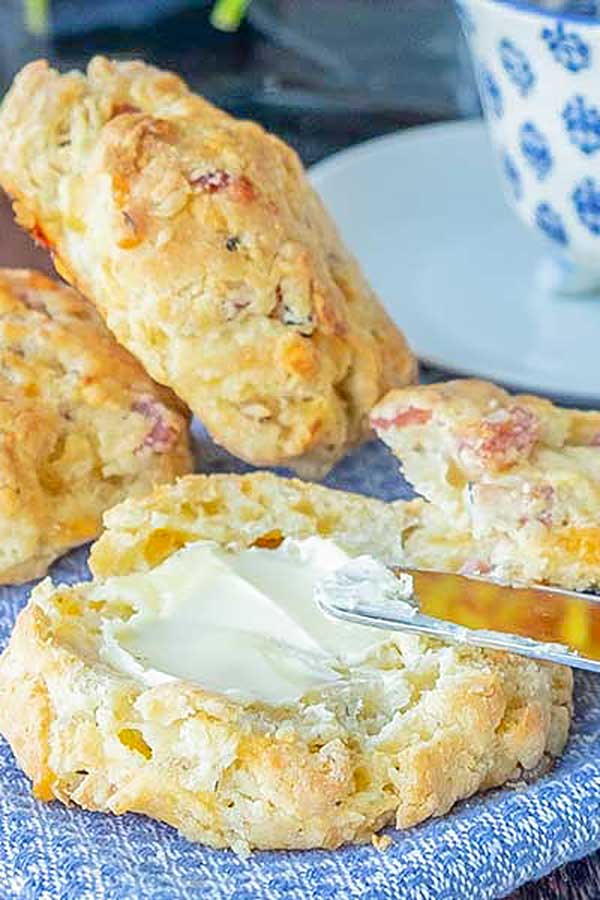 It takes about 15 minutes to mix the dough and shape the biscuits. There is nothing complicated about this recipe—a great last-minute gluten-free biscuit recipe for Sunday brunch.
These savoury biscuits had everything that my family wanted, so it was simple. I served them warm while the cheese was still melting…so good! They loved them!!
What's for breakfast?
When it comes to breakfast ordinarily, I like to serve yogurt or chia pudding with fresh fruit, seeds and nuts or our most popular pineapple blackberry chia smoothie bowl.
I like to add chia to my food in the morning because the tiny seed is a nutrient-rich powerhouse. And, gives me lasting energy!
But since it is the weekend, I decided to spoil my family with these buttery, cheesy, ham gluten-free biscuits.
If you are up for it, make them for brunch and let me know what you think. This is one of those recipes you will want to add to your recipe box.
I feel it is my simplest and best gluten-free ham & cheese biscuit recipe on this blog!
Have a super weekend! Back on Monday 🙂
Best Gluten-Free Ham & Cheese Biscuits
Published on Oct 20, 2018
by
Kristina Stosek
Instructions
1.

Preheat oven to 450 F and line a large rimmed baking sheet with parchment paper

2.

In a large bowl whisk flour, baking powder, thyme, sugar, xanthan gum, pepper and salt

3.

Add grated butter and using a pastry blender or a large fork, mix until the mixture resembles small lumps. Add ham and cheese and mix combine

4.

In a small bowl whisk together 1 1/2 cups milk, apple cider vinegar and egg. Add to dry ingredients and using a spatula stir just enough until the dough comes together. Do not overwork the dough. You can also use your hands to do this

5.

Shape the dough with lightly floured hands into 12 equal biscuits. About 2-inches wide and 1 1/2 inches tall. Place on the prepared baking sheet and brush with milk.

6.

Bake for 16 - 18 minutes until the tops are golden and the bottoms lightly browned

7.

Serve warm or at room temperature
Leave a Comment
made it today, omg soooo good!
if you haven't tried this gluten-free biscuit recipe you are missing out!