Gluten-Free Cappuccino Ganache Lace Cookies
Published on Jan 27, 2021
by
Kristina Stosek
Prep Time:

15 minutes
Cook Time:

15 minutes
Serves:

15 sandwiches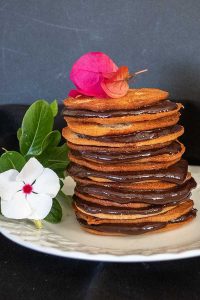 ​This post may contain affiliate links, please see our
privacy policy
for details
These gluten-free cappuccino ganache lace cookies are heavenly. Think thin crispy cookie sandwich filled with a deliciously creamy cappuccino ganache filling. These cookies are fun to make, but more importantly, they are sooo GOOD!
If you are a chocolate lover, these cappuccino ganache lace cookies will satisfy your craving for chocolate every time. The only thing I would like to add, these delicious gluten-free lace cookies are super addictive….so you may have to make some more very soon.
how to make lace cookies,
Lace cookie is not your typical cookie recipe. First, all you need is five ingredients plus salt. Everything is mixed together and cooked in a saucepan for about three minutes until the sugar has dissolved.
Drop the mixture with a teaspoonful on a baking sheet and bake for about eight minutes. The cookies will crisp up as they cool—a very easy gluten-free lace cookie recipe.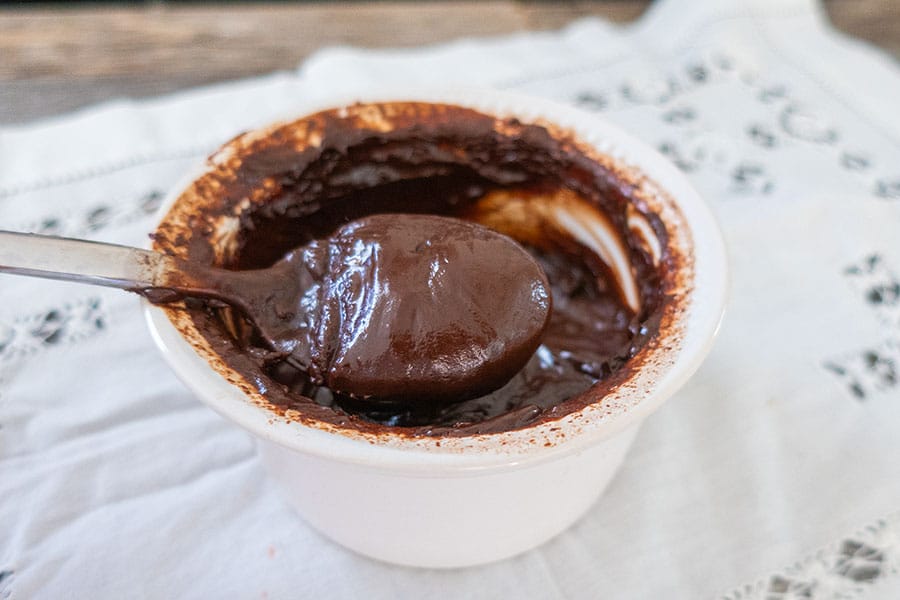 the cappuccino ganache,
There isn't an easier chocolate filling to make than this gluten-free cappuccino ganache. The ganache is made with gluten-free chocolate chips, heavy cream and instant coffee. You can omit the coffee if you want only chocolate ganache or make the lace cookies for kids.
To make the cappuccino ganache, all you need is a double boiler and about four minutes. The chocolate and coffee are melted with the cream until silky smooth. And now you are ready to sandwich the cooled lace cookies.
things to know about making ganache,
Classic ganache is a mixture of melted chocolate and cream and tastes like truffles. For best results, always use good quality chocolate. You can make ganache from dark, milk or white chocolate.
If you are using white chocolate, you can add colour and make the lace cookies look festive. The ganache will keep up to a month when refrigerated.
Chocolate ganache is a 1:1 mixture of chocolate and cream. It is smooth, shiny and silky. The silky chocolate cream can be used as a filling, spread, frosting, toppings for cakes and my favourite dip for fresh fruit. I especially love fresh strawberries dipped in chocolate ganache.
When making the ganache, if the ganache's temperature goes too high, the chocolate will separate from the fat, making the ganache oily and grainy. I recommend using a double boiler when making ganache for best results.
To thicken ganache, keep adding chocolate and wait for it to melt. You must keep stirring it until the ganache reaches desired thickness. The ganache will thicken as it cools. To spread the ganache, warm it up before using it.
can ganache be made with half and half or milk?
Yes, you can use half and half, but you can't use milk because the ganache won't set up properly. By using half and half, you will also cut back on calories. The chocolate ganache will be just as delicious except a little lighter.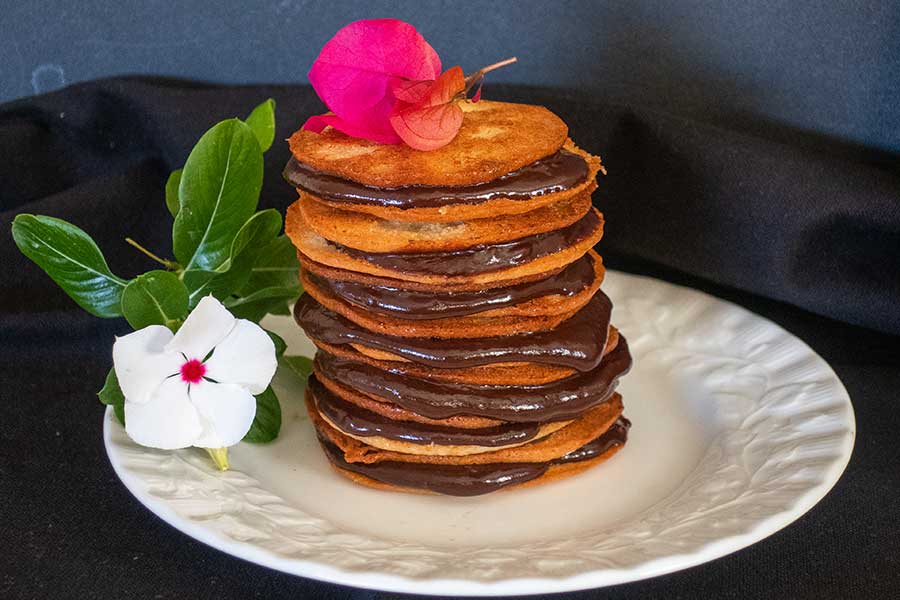 how to make chocolate truffles?
The texture of ganache depends on the ratio of chocolate and cream. If you are looking to make a firm ganache to make truffles, add more chocolate. The ganache should be 2:1 ratio chocolate to cream for truffles. And, always use whipping cream or heavy whipping cream to make truffles.
Once the mixture is cooled, it will firm up, and you can shape it into balls. You can roll the balls in pure cocoa powder or nuts to create basic truffles. When making chocolate truffles, always try to use the best chocolate.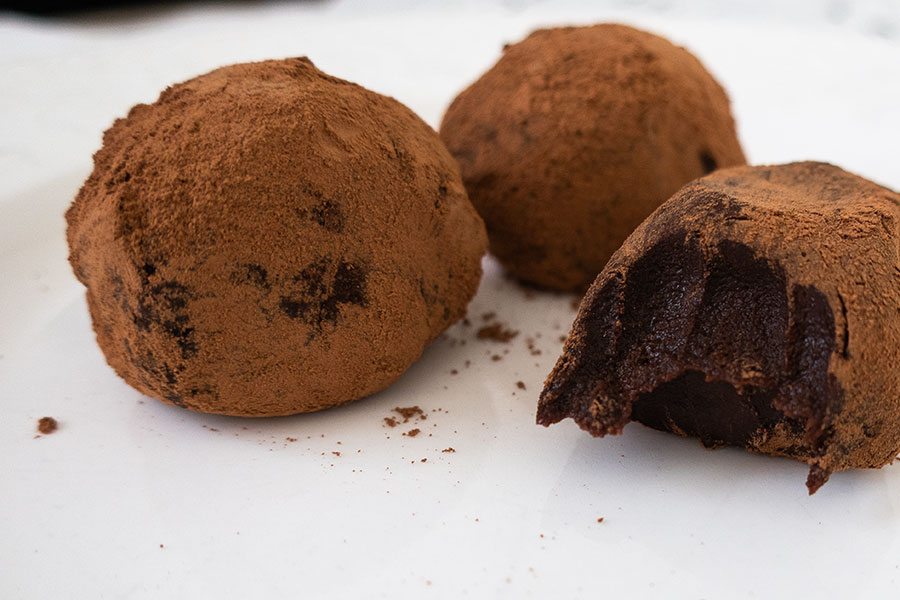 storing cappuccino ganache lace cookies,
The gluten-free cookies can stay at room temperature for 2 days, as long as they are kept in a cool place. If you have any cookies leftover, they should be refrigerated and will keep up to 10 days.
If you like sandwich cookies, you may enjoy these gluten-free mocha chocolate chunk sandwich cookies
For the latest recipes and tips, please like us on Facebook or follow us on Pinterest and Instagram.
Gluten-Free Cappuccino Ganache Lace Cookies
Published on Jan 27, 2021
by
Kristina Stosek
Instructions
1.

2.

In a small saucepan over medium heat, melt the butter. Add remaining ingredients and cook until the sugar has dissolved, whisking as needed, about 2 - 3 minutes. If the butter is separating from the flour, remove the saucepan from the heat and whisk the mixture until combined. Whisk in vanilla and set the mixture aside for 10 minutes allowing it to thicken

3.

Preheat oven to 350 F and line 2 large baking sheets with parchment paper

4.

Drop teaspoonfuls of mixture about 3 inches apart onto the baking sheets. Bake for 6 - 8 minutes until golden brown around the edges. The edges will sizzle as the cookie bakes. This is normal

5.

Allow cookies to cool on the baking sheet for 5 minutes, then transfer onto a cooling rack to fully cool and crisp up

6.

7.

Cook the chocolate chips, cream, and coffee in the top of a double boiler over simmering water until the chocolate has melted and is smooth, stirring as needed

8.

Once the cookies have fully cooled, spread the chocolate ganache on a cookie and sandwich with another. As the chocolate ganache cools, it will thicken. The cookies will keep up to one week when refrigerated