Chai Spiced Banana Bread Gluten-Free
Published on Sep 23, 2019
by
Kristina Stosek
Prep Time:

10 minutes
Cook Time:

45 minutes
Serves:

1 loaf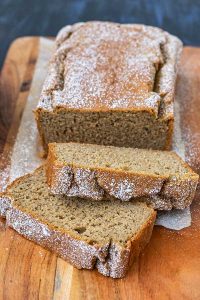 ​This post may contain affiliate links, please see our
privacy policy
for details
Healthy Gluten-Free Chai Spiced Banana Bread. An excellent way to use up overripe bananas is to make banana bread. In this recipe, I wanted more flavour than just bananas, so I added my favourite blend of chai spices such as cinnamon, nutmeg, cardamom and fresh ginger.
Don't have ripe bananas? No problem, you can ripen them in a few seconds using a microwave.
Poke firm unpeeled bananas all over with a fork or knife. Then place them on a paper towel and microwave on high for 30 seconds at a time, repeating until they're as soft as you need them.
Or, you can use the oven method. Place the bananas, still in their peels, on a lined, rimmed baking sheet. Turn the oven to 300°F. Bake the bananas until their peels turn black. The bananas will be mushy and deliciously sweet.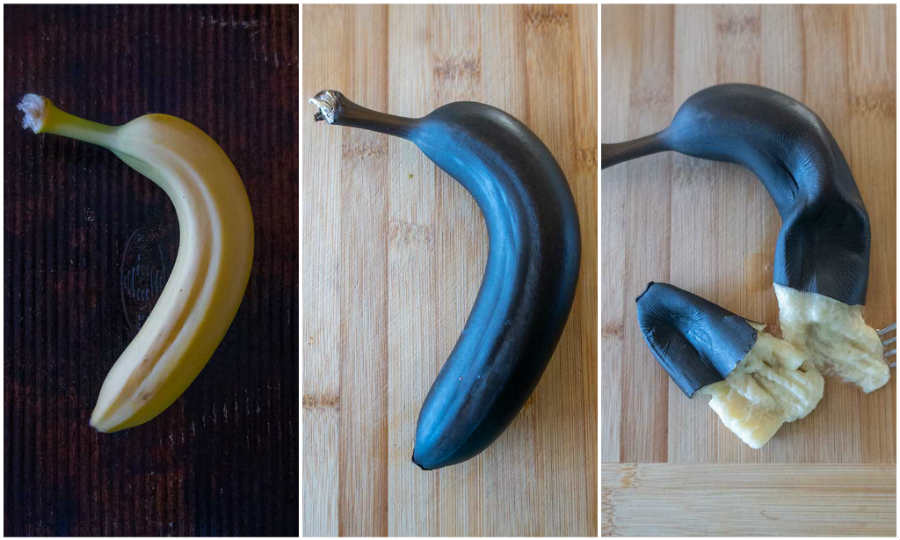 To keep this banana bread recipe healthier, I didn't add sugar and used only olive oil for fats. Overripe bananas are much sweeter than green bananas, so they are ideal for a recipe when it calls for a sweetener, the best part, even though they are sweeter the calories remain the same.
The best part, ripe bananas have many health benefits, find out more.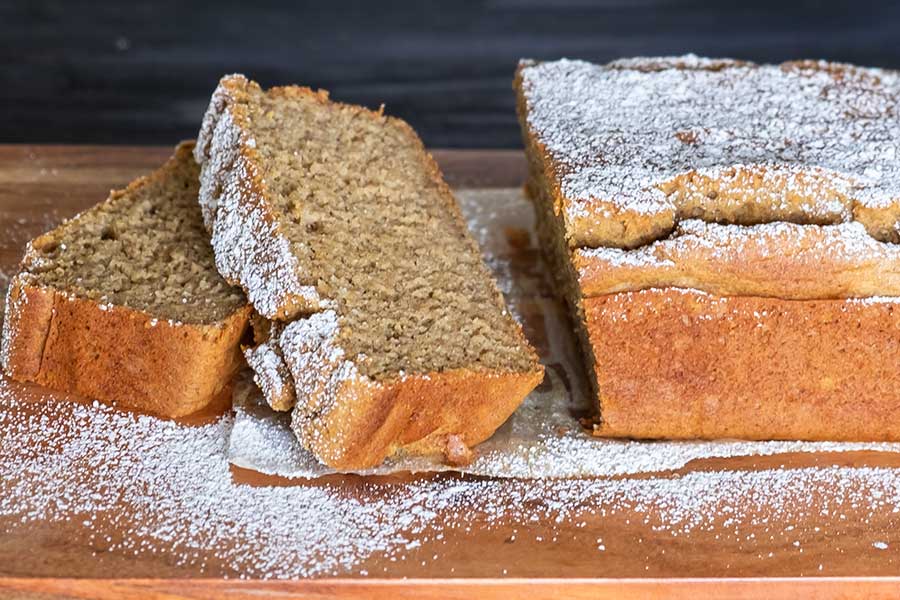 Since I used only bananas as a sweetener, this is not a sweet breakfast cake. This delicious chai spiced banana bread is only lightly sweetened, making it an excellent addition to cheeses or if you like more sweetness add a splash of marmalade.
If you prefer a sweeter version of gluten-free banana bread, add 1/4 cup of coconut sugar to the recipe. If you want more gluten-free recipes to use up ripe bananas check these out->
Chai Spiced Banana Bread Gluten-Free
Published on Sep 23, 2019
by
Kristina Stosek
Instructions
1.

2.

In a large bowl combine dry ingredients (rice flour to salt)

3.

Place bananas in a food processor and process until smooth. Add eggs, milk, olive oil, ginger, lemon juice and vanilla and process until combined. Add to dry ingredients and mix until smooth

4.

Transfer batter into prepared loaf pan and bake for 45 - 50 minutes, until golden brown and firm to touch. Cool in the loaf pan for 10 minutes, then transfer onto a rack to cool
Leave a Comment

Kristina
perfectly moist and the flavour is soooo good!
This is my favourite gluten-free banana bread recipe by far!!!