Gluten Free Gravy Without Drippings
Published on Nov 22, 2022
by
Kristina Stosek
Prep Time:

5 minutes
Cook Time:

20 minutes
Serves:

2 cups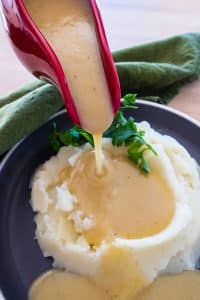 ​This post may contain affiliate links, please see our
privacy policy
for details
Gluten free gravy without drippings is easier to make than you might think! This delicious recipe can be made with or without animal products, and it's for anyone looking for a delicious, healthy gluten free gravy alternative.
This gravy is made with simple ingredients you likely already have in your pantry. Plus, it comes together in just a few minutes, so it's perfect for those busy holiday dinners.
Whether you're looking for a traditional gravy to pour over your turkey, mashed potatoes, or something a little different to top your green beans, this gluten-free gravy made without drippings is just what you may need.
Why make gravy without drippings?
This is an excellent question. One reason is to reduce the amount of animal fat in the gravy. Another reason is you may have a guest that follows a plant-based diet, so making vegan gravy for your guests is always appreciated.
And lastly, you can never have enough gravy for leftovers. This is when making extra gravy comes in handy.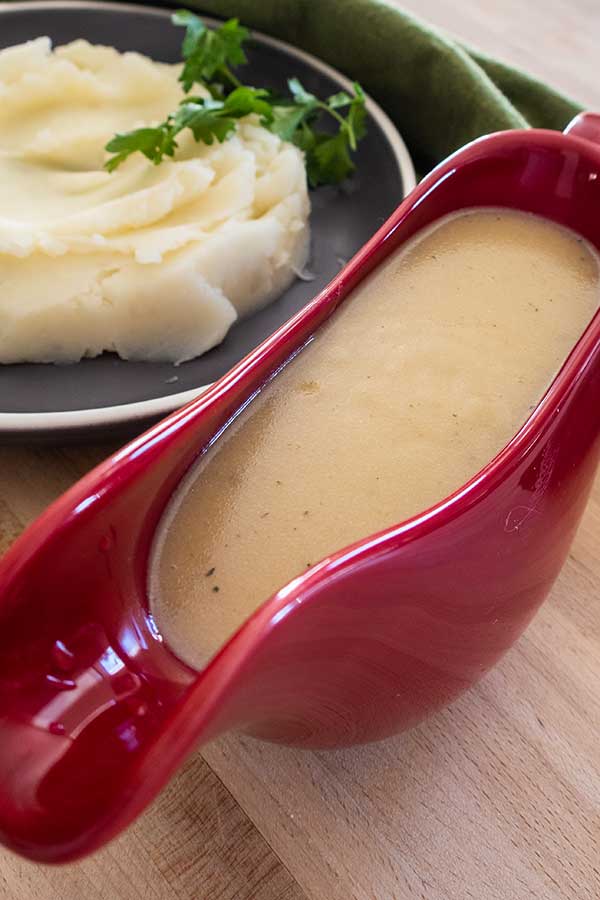 best broth for making gravy without drippings
There are a few different ways to make gluten-free gravy without drippings, but the best way is to use a good quality broth.
For a plant-based gravy use our 4 ingredient gluten-free mushroom broth, or gluten free miso bone broth or gluten free vegetable broth as your base. I find mushroom broth is the best because it adds a depth of flavor.
If you are looking for a gluten free gravy for turkey, chicken or beef, it is best to use gluten free chicken or beef broth as your base.
2 ways to make gluten free vegan gravy
There are a couple of different ways to make vegan gravy.
One way is to cook the veggies such as onions, carrots and celery with seasoning in a gluten free mushroom or vegetarian broth. Then, using a blender or food processor, blend until smooth.
Or, cook the veggies in a vegetarian broth with seasoning, then strain the vegetables keeping only a clear, flavorful broth. To thicken the broth, use rice flour until you reach desired consistency, as per our recipe.
How to thicken gravy without drippings?
The best thickener for gluten free gravy is white or brown rice flour. To thicken the gravy, always whisk the flour with a cup of cold broth before adding it to the hot liquid.
Is starch good to use for thickening gluten free gravy?
I personally don't use starch such as tapioca, arrowroot or corn. I'm not too fond of the glossy gummy texture it gives the gravy made without drippings.
However, if you use starch as a thickener, don't add it directly to the hot broth, or it will clump. And you need to use less starch than rice flour.
How to fix gravy?
Sometimes the gravy will clump either because you need to stir it while it cooks or the flour or starch wasn't mixed with cold broth before adding it to hot liquid. To get rid of the clumps, pour the gravy into a blender and blend until creamy.
Gravy usually thickens over time. Add some broth or cream to reach desired consistency while reheating the gravy.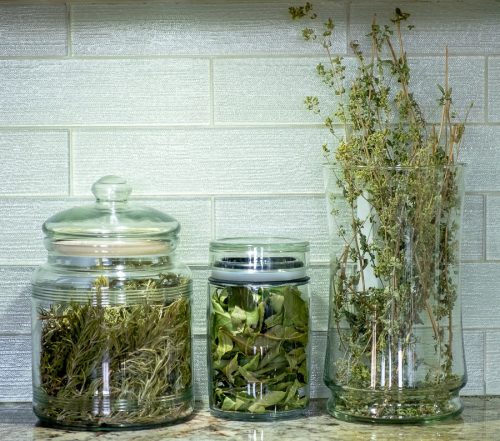 best herbs for gravy
Many herbs can make a delicious gravy, but some are better than others. Here are the best herbs for gravy:
Thyme – This herb has a strong flavor that goes well with poultry.
Rosemary – Rosemary is another strong-flavored herb that pairs well with beef or pork.
Parsley – Parsley is a milder-flavored herb that can add color and freshness to gravy.
Sage – Sage has a slightly sweet flavor that goes well with poultry or for vegan gravy.
Poultry seasoning – Using gluten free poultry seasoning is also a good choice and makes the recipe simpler to make
Or, combine all herbs to create the flavor of homemade gravy you like. The blend of herbs in our recipe will give you the classic gravy flavour.
How long will gravy without drippings keep?
Assuming you have made your gluten free gravy without any meat drippings, it should last in the fridge for 3-4 days or in the freezer for 2-3 months.
uses for gluten free gravy without drippings
-Pouring it over roasted chicken, turkey or beef
-Using it as a dipping sauce for breaded chicken or pork chops
-Making a savory breakfast dish by pouring it over scrambled eggs, English muffins or omelets
-Spooning it over mashed potatoes
-Drizzling it over steamed vegetables
-Spooning it over cornbread
-turkey sandwiches
-Adding it to leftover rice with some veggies for a quick and easy meal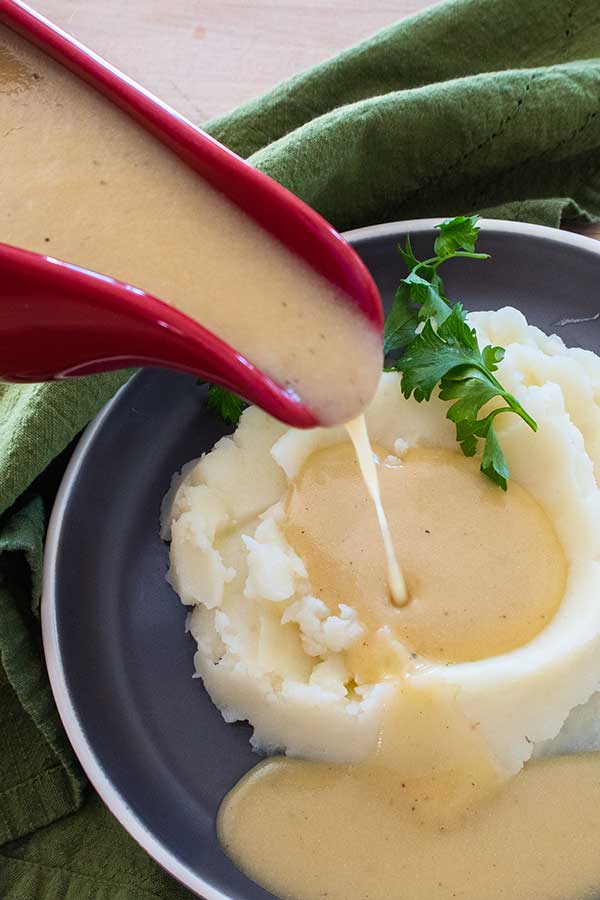 best way to reheat gravy
There are a few different ways to reheat gluten free gravy. The first way is to heat it on the stovetop. You will want to heat it on low, so it does not burn.
Another way to reheat your gravy is in the microwave. Put it in a microwave-safe container and heat it for about 30 seconds at a time, stirring in between, until it is warmed through.
You can also reheat your gravy by pouring it into a slow cooker or Crock-Pot and set it on low until warm.
The best part about gluten free gravy made without drippings is you can have fresh homemade gravy in minutes whenever you need it. Enjoy!
Let's Connect!
Be sure to FOLLOW US on FACEBOOK and PINTEREST.
Many thanks!
Kristina xx
Gluten Free Gravy Without Drippings
Published on Nov 22, 2022
by
Kristina Stosek
Instructions
1.

In a large saucepan, melt the butter. Once hot, add the onions and generously season with salt. Cook until softened, about 5 minutes

2.

Stir in sage thyme, marjoram, rosemary and nutmeg

3.

Add carrot, celery and 1 1/2 cups broth. Cook over medium-high heat until liquids reduce by about half a cup. About 10 minutes

4.

Strain the vegetables through a sieve keeping only clear broth

5.

Whisk rice flour with the remaining 1 cup of broth and add to the hot broth. While whisking, cook over medium heat until thickened, about 5 minutes. Adjust seasoning as needed 

6.

The gravy thickens as it cools. You may need to thin it out with broth or cream as you reheat it until you reach desired consistency