Gluten-Free Chinese Lemon Chicken
Published on Apr 10, 2015
by
Kristina Stosek
Prep Time:

20 minutes
Cook Time:

20 minutes
Serves:

4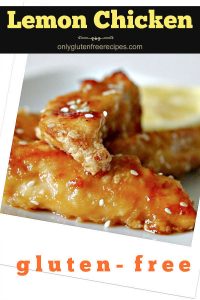 ​This post may contain affiliate links, please see our
privacy policy
for details
Gluten-Free Lemon Chicken, just like take out – crispy chicken tenders coated in a delicious, lightly sweetened lemon sauce.
Do you love Chinese take out? Then you must try this lemon chicken recipe 🙂
If you love Chinese take out and are looking for gluten-free versions, this is one of those recipes you will love. This chicken dish is made without deep-frying or refined sugar, making this a healthier lemon chicken recipe.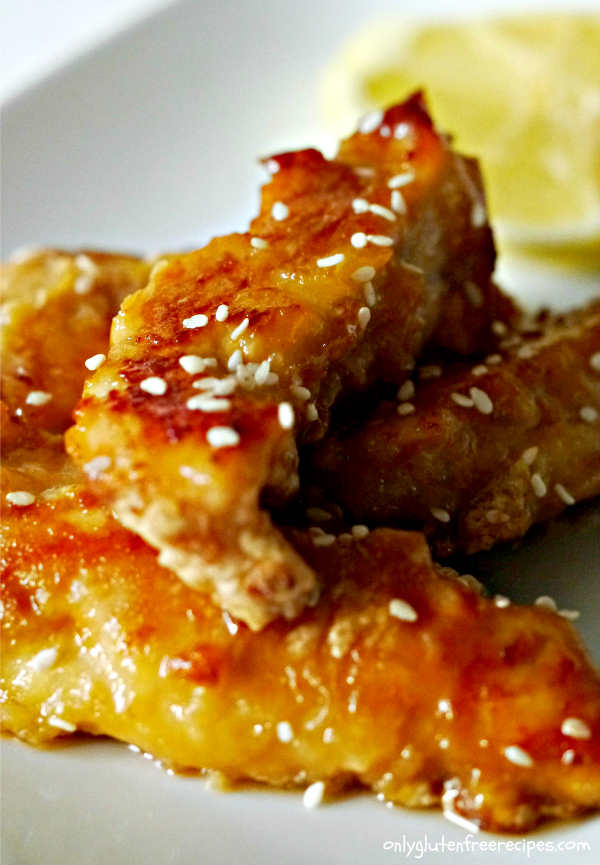 the secret to best lemon chicken,
The secret to this dish is marinating the chicken first in an egg, tamari sauce, maple syrup, and rich sesame oil. This flavours and coats the chicken with a sticky sauce used as part of the crispy coating.
Once the chicken has finished marinating, this takes about an hour, the chicken is lightly dusted with tapioca starch. Then, it is flash-fried before it is baked. By baking, the chicken will become crispy without deep frying.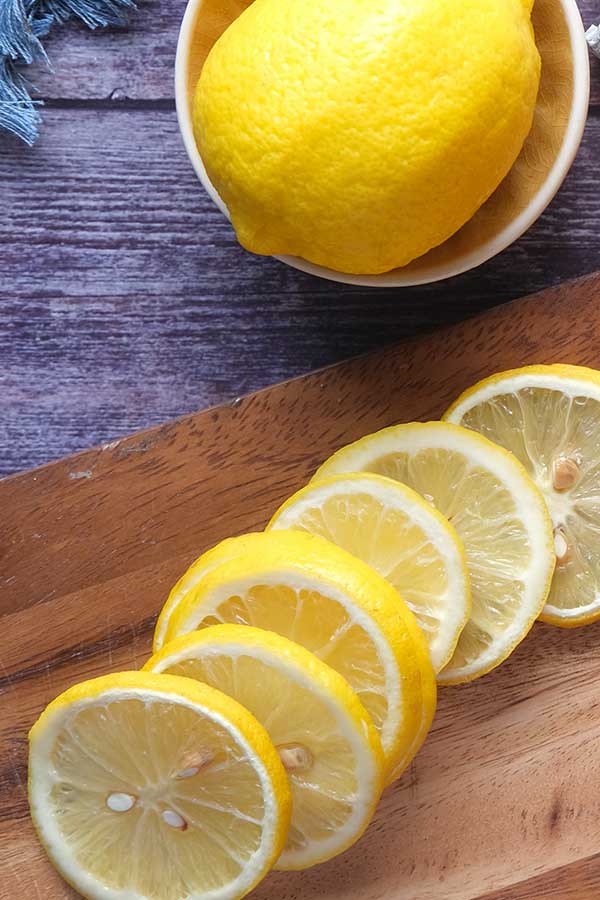 the sauce is all about fresh lemons,
The lemon sauce must be made from fresh lemons, not bottled lemon juice or lemon extract, as most restaurants do. The sauce is slowly simmered with fresh lemon juice, chicken stock, maple syrup, and lemon slices, creating a fresh lemon flavour.
Then, the sauce is thickened with tapioca starch. When the chicken is done baking, pour the sauce over the chicken. Done!
I often serve this gluten-free lemon chicken as an appetizer. But, if you are looking for a light chicken dinner meal, you can serve the chicken tenders over curry pork fried rice or a green salad. Are you looking for take-out inspired recipes? Check out our list of simply made gluten-free Asian recipes!
Gluten-Free Chinese Lemon Chicken
Published on Apr 10, 2015
by
Kristina Stosek
Instructions
1.

Whisk together egg, tamari sauce, 1 teaspoon maple syrup, sesame oil and lemon zest. Add chicken and coat with the marinade. Refrigerate for 1 hour

2.

3.

In a small saucepan add lemon juice, chicken stock, 1/3 cup maple syrup, and lemon slices. Simmer over low heat for 5 minutes

4.

Whisk together 2 teaspoons of tapioca starch and 1 tablespoon of water. Add into the lemon sauce and cook over low heat until the slightly sauce thickens. If the sauce is too thick, add some water. Set aside

5.

6.

7.

In a bowl mix remaining tapioca starch with salt. One piece at a time, slightly dust the chicken. Place chicken on parchment paper until ready to cook.

8.

Preheat olive oil over medium heat and flash fry the chicken pieces. About 1 minute per side, then transfer on a non-stick baking sheet and bake for 10 minutes, or until chicken is fully cooked

9.

Pour lemon sauce over the chicken and bake three more minute, just long enough to reheat the sauce.

10.

Sprinkle with sesame seeds and enjoy!