Gluten-Free Low Fat Cranberry Muffins
Published on Oct 19, 2020
by
Kristina Stosek
Prep Time:

15 minutes
Cook Time:

35 minutes
Serves:

12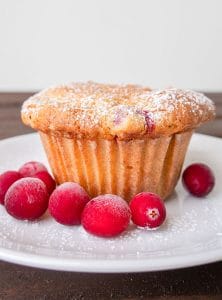 ​This post may contain affiliate links, please see our
privacy policy
for details
Today it's about tangy healthier Gluten-Free, Low Fat Cranberry Muffins. The delicious, light cranberry muffin flavours are about bursting fresh cranberries, buttermilk, cinnamon, ginger, lemon zest, and vanilla.
Why add buttermilk to cranberry muffin recipe?
The cranberry muffins are made with buttermilk, which replaces butter, keeping the muffins light and reducing saturated fats. To keep the muffins extra moist, a splash of heart-healthy olive oil.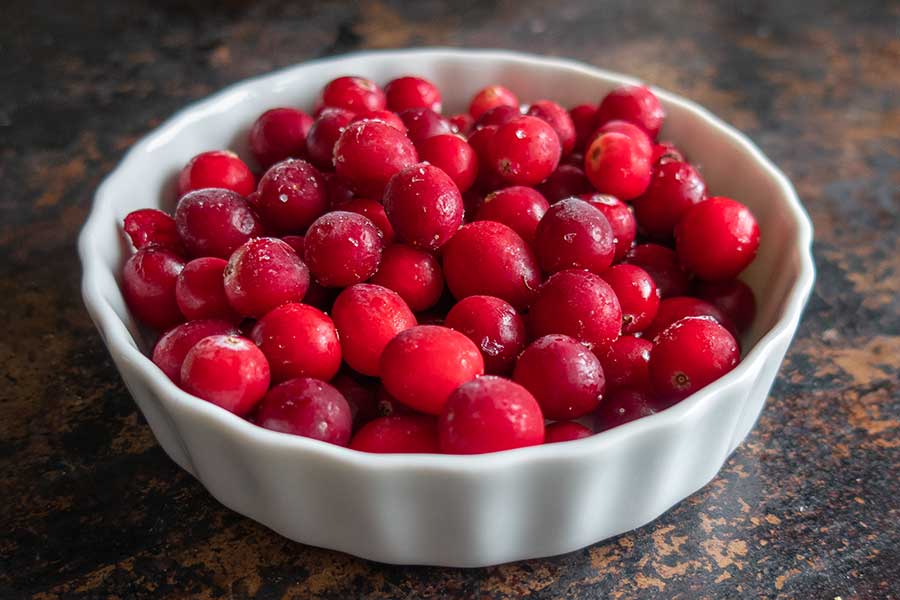 Are cranberries healthy?
I wanted to create a muffin that tastes good and has some health benefits. After all, food is thy medicine. We know that blueberries are healthy, a superfood we often use in muffins, such as these gluten-free blueberry muffin recipes.
However, this may surprise you. Cranberries are also considered a superfood rich in antioxidants. In addition, cranberries are packed with vitamins, minerals and fiber.
A serving of cranberries contains 22 percent of your daily recommended vitamin C and 28 percent of your daily recommended dietary fiber. So including cranberries in our diet will help promote healthy bodies.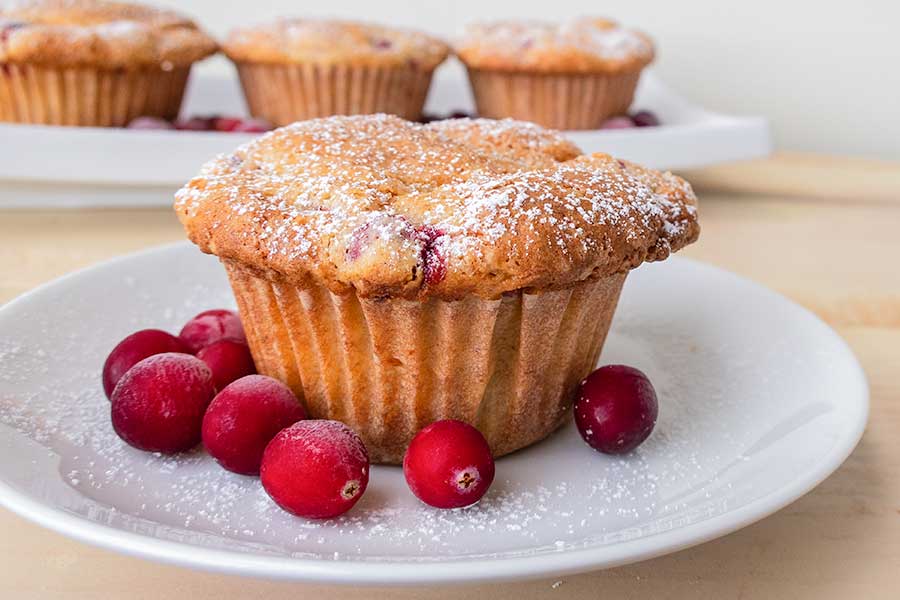 What is buttermilk?
This may sound confusing, but buttermilk sounds like it is made with butter? It is the opposite. Buttermilk is a fermented dairy drink. It is the liquid left behind after churning butter out of cultured cream.
A cup of buttermilk contains 8 grams of protein, 28% of daily recommended calcium and is low in saturated fats. Buttermilk also contains riboflavin, also known as B₂. This vitamin helps support liver function by detoxifying your body of toxins.
Typically a basic gluten-free muffin is made with 1/2 cup of butter, high in saturated fats and low in calcium. However, this muffin is healthier by replacing butter with buttermilk, making this an easy choice.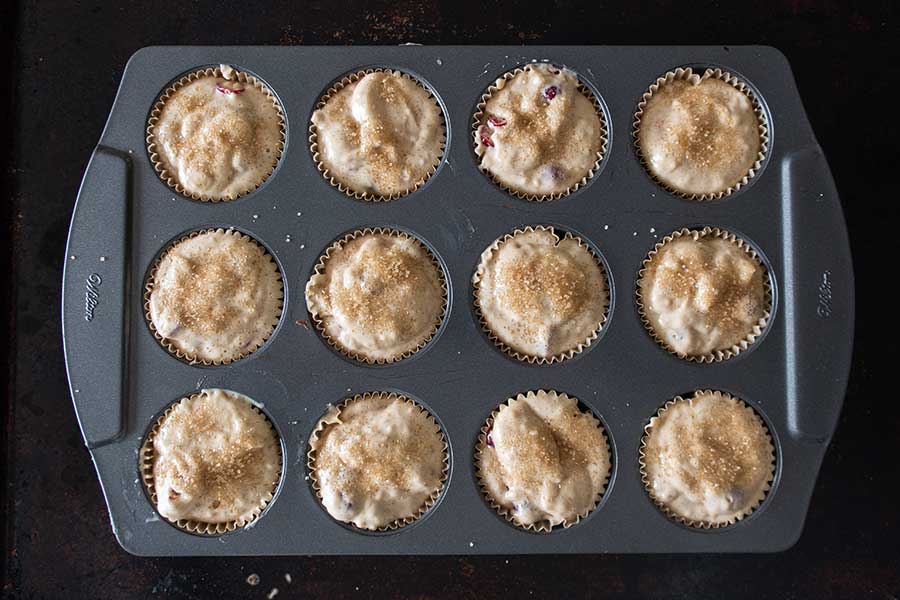 Gluten-Free Cranberry Muffin Recipe Overview
This gluten-free muffin recipe is so simple to make. To make the batter takes virtually 10 minutes. What takes time is halving the cranberries. Starting with creaming the eggs with sugar. I recommend using a high-speed mixer.
By using a high-speed mixer, the muffins will be light and airy. Once you combine the dry ingredients, add the halved cranberries.
The cranberries have to be halved. This will let them burst in the batter, filling each muffin with fresh cranberry juices. I know cutting the tiny cranberries is tedious but well worth it and makes all the difference in the muffin flavour.
Next, add the dry ingredients with the cranberries to the wet mixture and gently stir to combine.
Using a cookie scoop is probably the best way to fill the muffin cups. I never use anything else. And, always use parchment paper liners. This will keep the muffins from sticking to the paper, especially when low in fat.
Once the muffin cups are filled, lightly sprinkle the tops with the remaining sugar. When the muffins bake, the sugar lightly caramelizes, giving the muffins a lightly sweetened topping. It is soo good!
And that is all there is to it! A healthy-ish Gluten-Free Low Fat Cranberry Muffin that includes calcium, protein, fiber and is filled with antioxidants. YUM!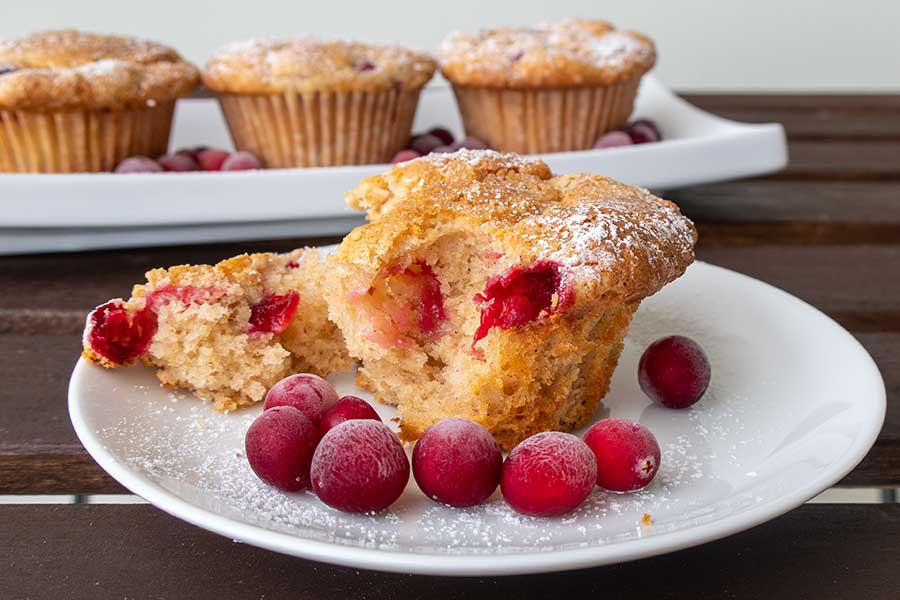 If you are looking for healthier gluten-free muffin recipes, these are my three favourites!
Let's Connect!
Be sure to FOLLOW US on FACEBOOK and PINTEREST.
Many thanks!
Kristina xx
Gluten-Free Low Fat Cranberry Muffins
Published on Oct 19, 2020
by
Kristina Stosek
Instructions
1.

Preheat oven to 350 F and line a muffin pan with parchment paper liners

2.

In a large bowl, using an electric mixer, beat eggs with 1 cup less 1 tablespoon of sugar, until creamy. Add olive oil, buttermilk, vanilla and lemon zest. Mix to combine

3.

Whisk together flours, flaxseed, baking powder, cinnamon, ginger and salt. Stir in cranberries to coat with the flour

4.

Add dry ingredients to wet mixture, and using a spatula, stir to combine.

5.

Using a large cookie scoop or a spoon, transfer batter into the prepared muffin pan. Sprinkle the tops with the remaining 1 tablespoon of sugar

6.

Bake for 33 - 38 minutes until the muffins pass the toothpick test, and they are golden. Leave the muffins in the pan for 10 minutes, then transfer onto a cooling rack. Enjoy!
Leave a Comment

Kristina
wonderful and thank you for letting us know!
I made these yesterday and they were delicious! I will definitely be making them again!
The muffins are delicious and surprisingly super light! But the cranberries make them, thank you for another delicious muffin recipe.