Gluten-Free Savoury Breakfast Muffin
Published on Sep 06, 2019
by
Kristina Stosek
Prep Time:

15 minutes
Cook Time:

35 minutes
Serves:

12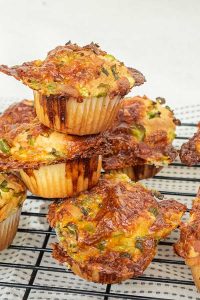 ​This post may contain affiliate links, please see our
privacy policy
for details
This Gluten-Free Savoury Breakfast Muffin is a great grab-and-go option for busy mornings. While this is not your typical sweet muffin, it's sure to satisfy that craving for something savoury.
These gluten-free hearty muffins are tasty and cheesy with a hint of smokiness from the bacon. All of the things some of us crave for breakfast. If you enjoy something with a spicy flavour, add hot sauce to the mix for some extra kick.
A gluten-free savoury breakfast muffin with all the things we love!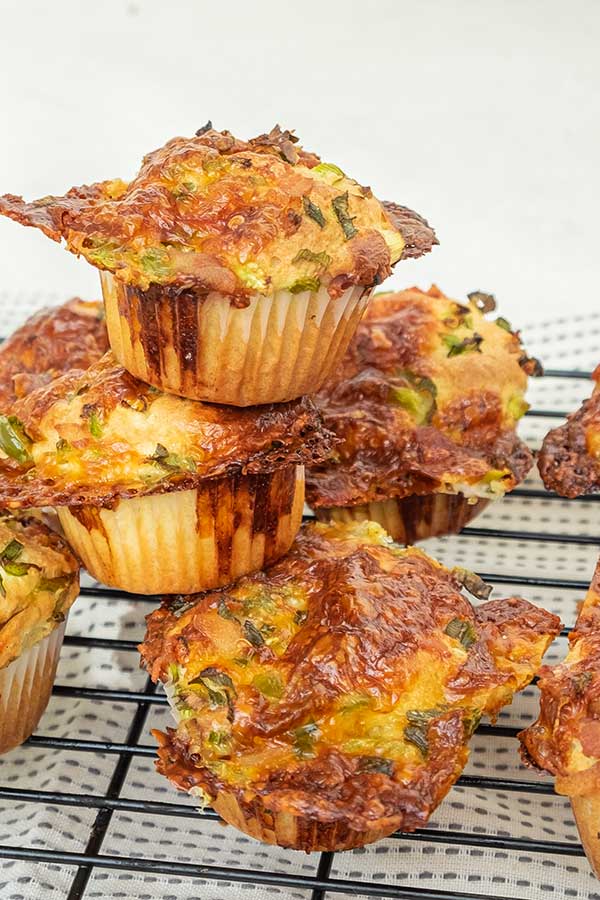 These muffins are extra special for breakfast, and everyone will love them— made with eggs, melted goey cheese throughout, and crispy bacon, YUM, right? And, for freshness, I added green onions – an excellent combination for deliciousness.
But don't stop at breakfast. This is a high protein and lower in carbs gluten-free muffin recipe. A perfect snack on the go any time of the day because the savoury muffin will keep your hunger at bay.
high protein breakfast muffin recipe,
This gluten-free savoury muffin is simple to whip up and makes for a satisfying breakfast. This recipe is one of my favourites because I love savoury food, especially in the morning.
You can never have enough recipes when it comes to muffins, and this one is especially a keeper. Once you try this cheesy, bacony muffin, you may find that you will ditch the sweet breakfast food.
However, if you prefer something sweet in the morning, you must check out our list of gluten-free muffin recipes.
Gluten-Free Savoury Breakfast Muffin
Published on Sep 06, 2019
by
Kristina Stosek
Instructions
1.

Preheat oven to 375 F and line a muffin pan with parchment paper liners. Do not use regular liners, gluten-free muffins tend to stick to the paper.

2.

In a large bowl whisk together flours, baking powder, salt and xanthan gum

3.

In a separate bowl whisk together, eggs, milk and olive oil. Add wet mixture to dry ingredients and mix to combine

4.

Combine mozzarella, bacon and onions. Stir half of the mixture into the batter. Pour batter evenly into the prepared muffin pan and top with remaining cheese mixture. Using your fingers press the mixture slightly into the batter

5.

Bake for 33 - 35 minutes until the tops are golden brown. Cool in the pan for 10 minutes, then transfer the muffins onto a rack to cool
Leave a Comment
finally a delicious savoury gluten-free muffin...YUMMY, thank you.

Kristina
Hi Jodi, yes you can use tapioca or corn starch,
Do you have a replacement for the arrowroot flour ?