Gluten-Free Zucchini Bacon And Cheese Muffins
Published on Feb 15, 2021
by
Kristina Stosek
Prep Time:

15 minutes
Cook Time:

25 minutes
Serves:

6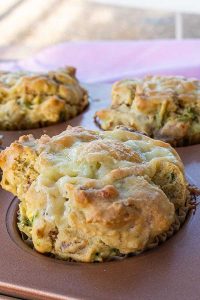 ​This post may contain affiliate links, please see our
privacy policy
for details
Breakfast anyone? These gluten-free zucchini bacon and cheese muffins are filled with healthy zucchini, crispy smoky bacon, and topped with melted sharp cheddar cheese. There is so much goodness in these hearty muffins that you will need only one to keep you energized for hours.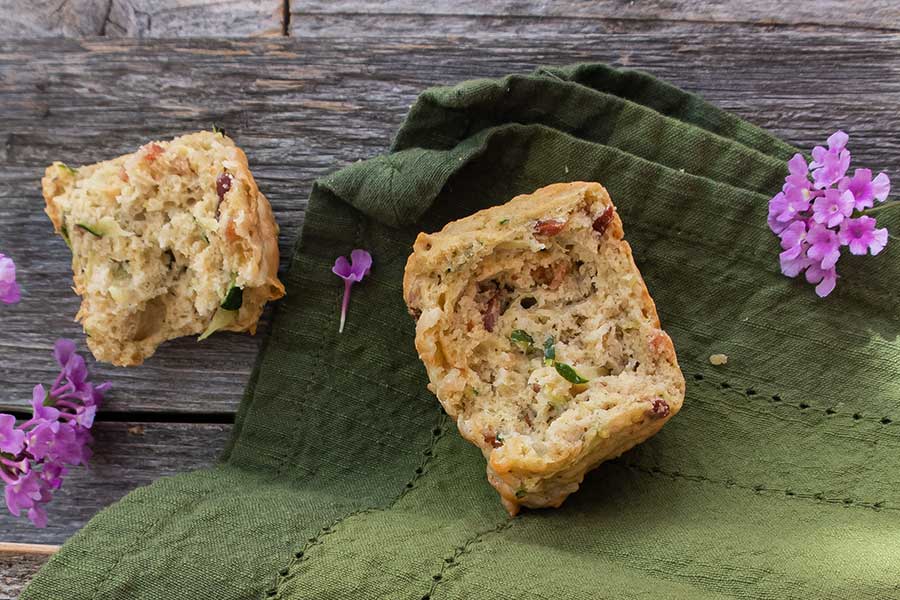 You may like fresh berry muffins, such as this gluten-free triple berry muffin or savoury muffins such as these protein-packed zucchini, bacon and cheese muffins → if you are a breakfast person. This gluten-free muffin has it all — eggs, bacon, cheese and fresh zucchini and flaxseed for extra fiber.
Often some of us have bacon and eggs for breakfast with a toast. So I thought, why not put everything into one muffin and call it breakfast on the go 🙂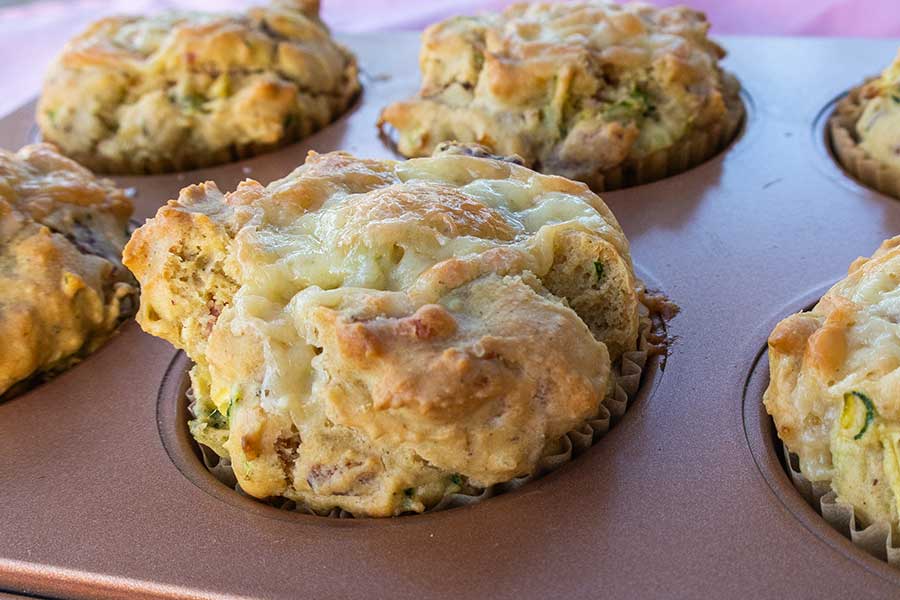 These zucchini bacon and cheese muffins are best when freshly baked and served warm. This is why I kept the recipe to only six muffins. However, you can double the recipe if you are feeding a large family. For any leftovers, I recommend slightly reheating them.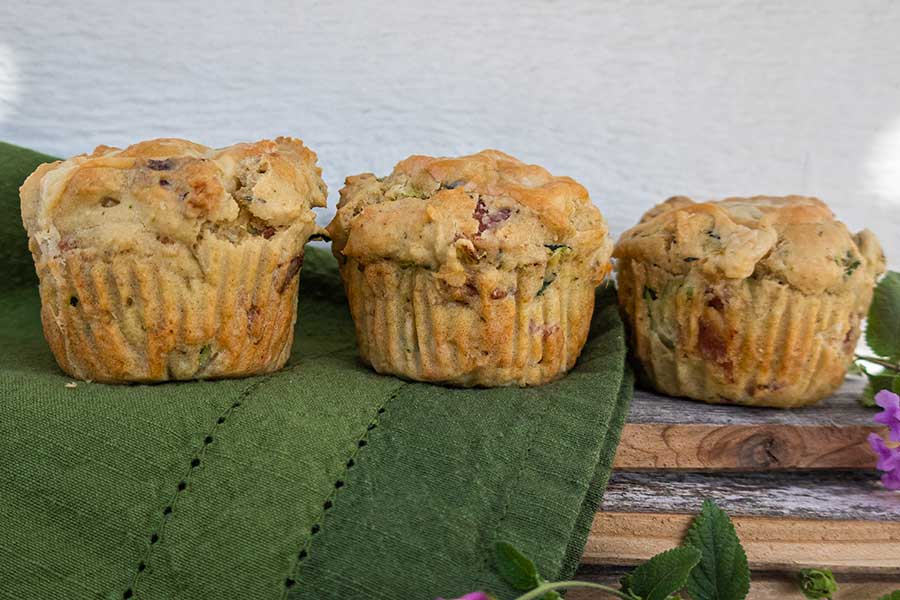 What is different about this gluten-free muffin recipe?
One thing that makes this muffin different from other gluten-free zucchini muffin recipes is the topping. Typically when you make muffins with cheese, you mix the cheese in the muffin batter.
Because I wanted to taste the cheese, I added a cube of cheese on top before baking. The sharp cheddar cheese melted and gave the muffin a cheesy flavourful topping, making this gluten-free muffin extra delicious!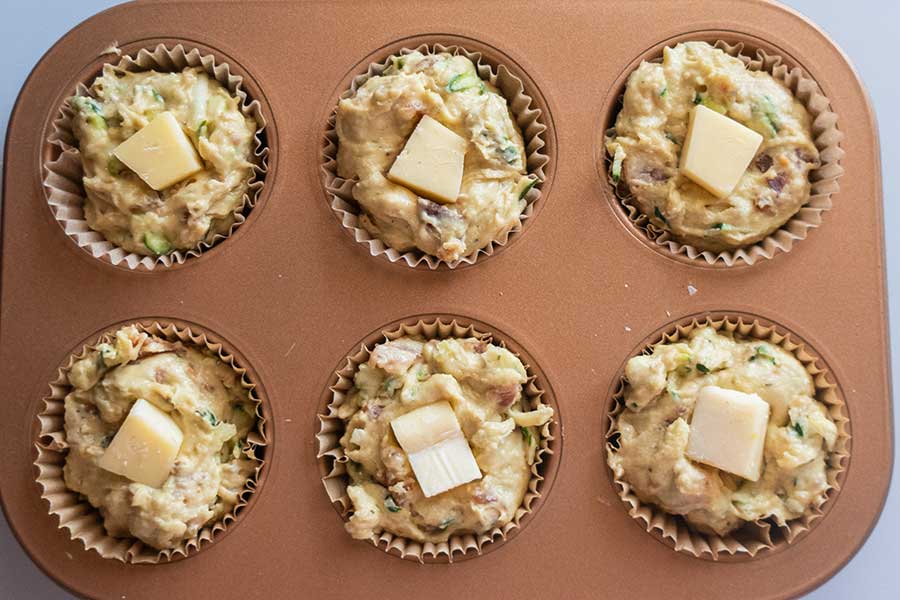 the bacon,
I wanted the bacon to be prevalent in these zucchini muffins. So I doubled the bacon amount that I would generally add to muffin recipes. I wanted the smoky flavour to come through.
Besides, the gluten-free bacon is first cooked and drained from most of the fat. Leaving only crispy chunks of delicious smoky bacon throughout these gluten-free muffins.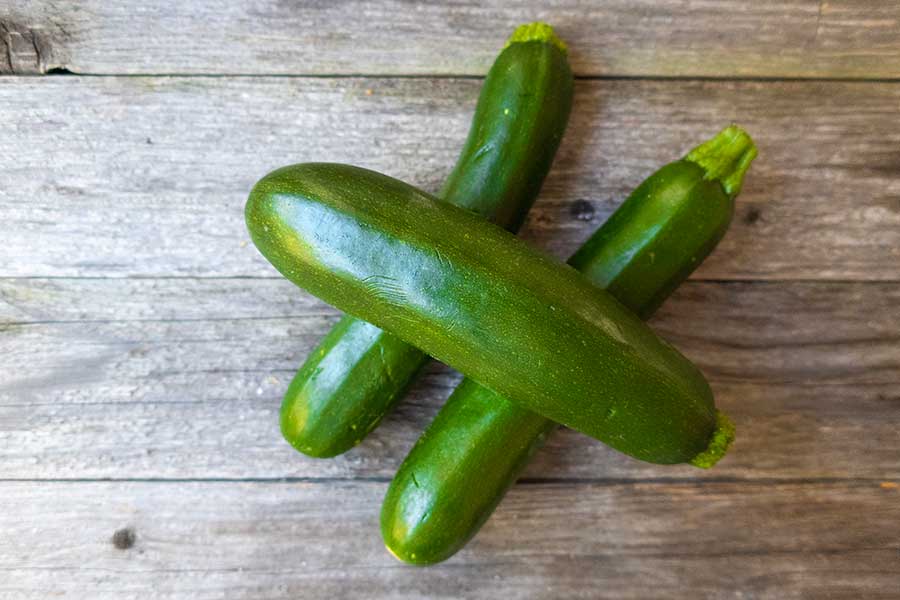 Things to know about adding fresh zucchini to muffin recipes!
First, do not peel the zucchini. The colourful skin is where you will get most of the health benefits, such as carotenoids and fiber. The skin is thin and soft, and slightly sweet, especially when cooked. You can also eat zucchini raw with delicious dips, such as this keto hot pizza dip, or this low-carb eggplant dip.
Zucchini comes in many colours. The most common variety is a deep green colour, the zucchini I most often use. Other types are yellow, orange, pale green or striped. They can all be used in this muffin recipe.
When adding zucchini to muffin batter, after grating the zucchini, always squeeze out as much moisture as possible. I find paper towels or a clean dishcloth does the job well. You want to remove as much moisture as possible because if you don't, the muffins will become soggy, and the texture will not be too tasty.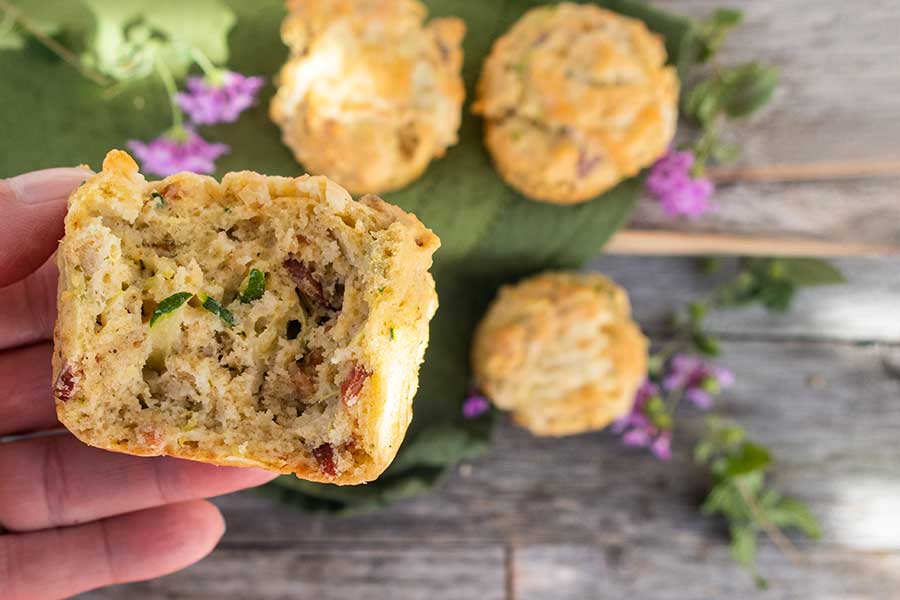 the cheese muffin topping,
For extra cheesy flavour, I used sharp cheddar cheese. This is a good melting cheese for baking and packs robust flavour, complimenting the bacon and mildly flavoured zucchini. However, you can use other good melting cheeses, such as smoked gouda, gruyere, provolone or low moisture mozzarella.
These gluten-free muffins packed with tender zucchini, smoky, crispy bacon and finished with gooey cheesy topping are a delicious way to start your day.
If you follow the intermittent fasting schedule, you can enjoy these muffins for your first meal. The flavourful gluten-free muffins are packed with protein and will keep you satisfied for hours. Enjoy!
Gluten-Free Zucchini Bacon And Cheese Muffins
Published on Feb 15, 2021
by
Kristina Stosek
Instructions
1.

2.


Place bacon on a rimmed baking tray and bake for 10 minutes. Flip the bacon over and bake until crispy. About 3 - 5 more minutes. Transfer bacon onto paper towels and blot to remove the fat. Coarsely chop.

3.


Reduce oven heat to 355 F and line a 6 cup muffin pan with parchment paper liners

4.


In a large bowl, combine flour, flaxseed, baking powder, thyme, salt and black pepper

5.

In a separate bowl, whisk eggs with olive oil and milk

6.


Add egg mixture to dry ingredients and stir until just combined. Do not overmix, or the muffins will become dense. Stir in bacon and zucchini and spoon batter into prepared muffin pan. 

7.

Press each piece of cheeese slightly into the center of each muffin and bake for 25 - 27 minutes until a toothpick inserted in the center comes out clean

8.


Cool in the muffin pan for 15 minutes. Serve warm or at room temperature. For leftovers, if you kept the muffins in the refrigerator, reheat them in a hot oven for about 5 minutes or microwave them for about 15 seconds
Leave a Comment

Kristina
Kristina, Thank you so much, this recipe sounds so yummy. Need thyme, ground flaxseed, and some sharp cheddar. Off to the shops.