Leftover Turkey Singapore Style Noodles (Gluten-Free)
Published on Apr 26, 2019
by
Kristina Stosek
Prep Time:

15 minutes
Cook Time:

10 minutes
Serves:

4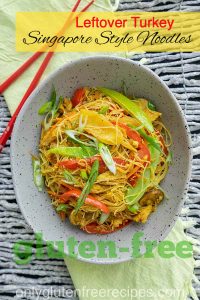 ​This post may contain affiliate links, please see our
privacy policy
for details
Leftover Turkey & Singapore Style Noodles – Let's talk about leftovers! I don't know about you, but I always have plenty of turkey leftovers and not enough gravy. But, let's face it, turkey without gravy doesn't quite cut it. So, this recipe using leftovers had to be flavourful, simple and with noodles.
easiest leftover turkey noodle dish…
I love dishes that are made with noodles! And, this is why I decided to turn the turkey leftovers into a gluten-free Singapore-style noodle dish. This means snow peas, mushrooms, bell peppers, carrots, rice vermicelli and spices such as curry, garlic and ginger and of course, leftover turkey meat.
let's jump right into the details…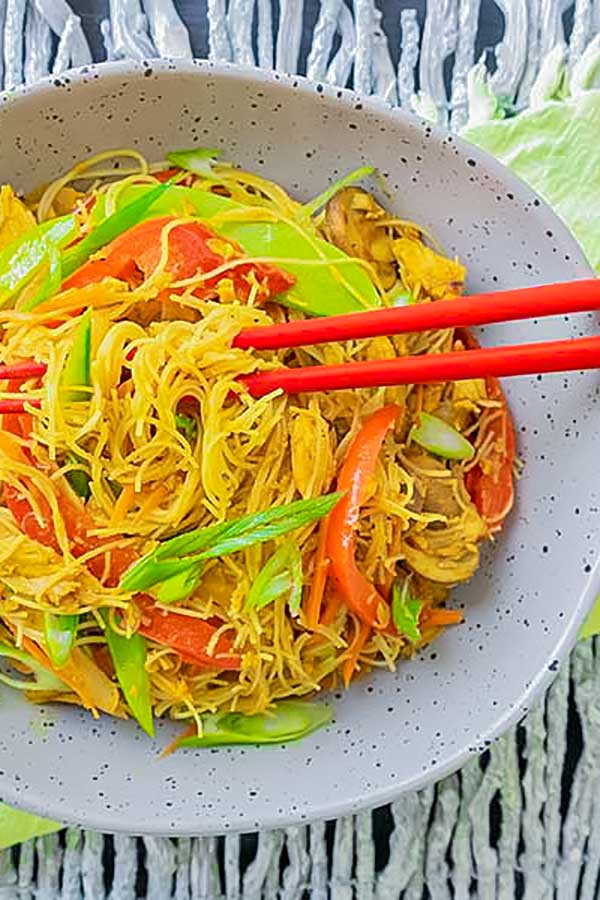 First, remove the bones and skin and slice the meat into thin strips. Then, save the bones for turkey soup. They make an exceptionally tasty broth adding rich flavour to any soup.
start with the veggies…
Since the turkey meat is already cooked, all you need to do is briefly cook some of the veggies and make the sauce. This is all done in the same pan or a wok—total cooking time about 10 minutes.
Once your deliciously flavoured veggie sauce is ready, add the Chinese noodles, meat, snow peas and green onions. Gently toss everything to coat the noodles, and cook until heated through. Done! A very simple Singapore-style noodle recipe made with leftover turkey.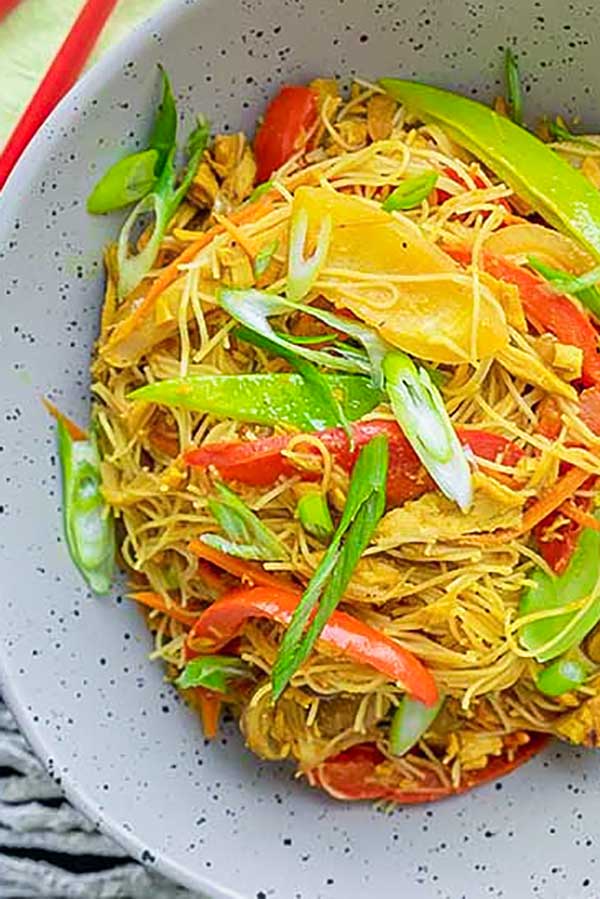 What I love about this gluten-free noodle recipe is, if you don't have turkey, you can use leftover chicken, pork, beef or even ham. Who said leftovers have to be boring? Another recipe using turkey leftovers you may enjoy is the Cheesy Buffalo Turkey Acorn Squash Bowls.
Leftover Turkey Singapore Style Noodles (Gluten-Free)
Published on Apr 26, 2019
by
Kristina Stosek
Instructions
1.

Prepare noodles as per package directions

2.

Heat oil in a large non-stick skillet or wok over medium heat. Add onions, garlic and bell pepper and stir-fry for about 5 minutes until the vegetables soften. Stir in ginger, curry powder and cayenne pepper

3.

Add Tamari sauce, broth, mushrooms and carrots and cook for 2 more minutes

4.

Add snow peas, green onions and noodles and gently toss until the noodles are well coated with the vegetable mixture and the turkey is heated through. Serve hot topped with green onions